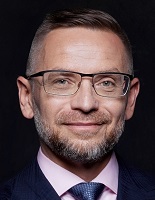 Associate Professor of Public Management at Department of Spatial Economy and Self-Governed Administration, Wroclaw University of Economics and Business, Poland
Dr hab. Andrzej Sztando is Professor of Public Management at the Wroclaw University of Economics (Wrocław, Poland).
His primary research interests are in strategic governance of local and regional development, as well as in self-government, public decentralisation and multilevel governance. As a university employee, he participated in and managed many research projects financed both by Polish ministries and scientific institutions, as well as by the European Union.
Outside of academia, he is a well-known, independent adviser to local and regional, public authorities. In 25 years he formulated ca. 80 strategies of development of cities, communes, municipalities, districts and regions. All of them have been officially adopted and successfully implemented by the said authorities. He regularly conducts advanced trainings of various high officials and management boards of public companies in the field of strategic management and governance.
Having the experience resulting from combining theory with practice, he was invited as a guest lecturer or visiting professor by dozens of universities, including University of Paris 1 Panthéon-Sorbonne (France), University of Bologna (Italy), National University of Singapore (Singapore), University of the Witwatersrand (South Africa), University of Campinas (Brazil), University of Jember (Indonesia), Stockholm University (Sweden) and University of Las Palmas de Gran Canaria (Spain).
For the same reasons, he serves as a reviewer for prestigious scientific journals, e.g. Lex Localis, Urban Studies and Public Administration, Sustainability, Local Government Studies, Economic Alternatives. 
Furthermore he is an expert of top research institutions, e.g. Research Executive Agency of The European Commission (Brussels, Belgium) as well as The National Centre for Research and Development (Warsaw, Poland).
He reviews and evaluates the most important Polish, strategic, national research programs. He was/is also the chairman and member of supervisory boards of public and private companies. In years 2010-2018 he was an councillor and deputy chairman of the Jeleniogorski County (Poland).
Being followed on social media by several thousand public managers from many countries, he is an opinion-forming influencer in the field of public strategic management.
He shares his knowledge on www.sztando.com