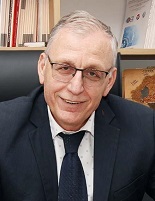 Fatmir Memaj (1962) Graduated Bachelor of Science at the Faculty of Economics, University of Tirana, (1985), PhD in Economics (November 1996). Since March 2007 he is full professor at the Department of Statistics and Applied Informatics. Currently he is deputy dean at FEUT.
He has been assistant lecturer (1985-1991) and lecturer since 1991 as well as Vice Dean (2003-2016 and 2020-) and professor of statistics, demography and research methods and techniques.
Currently Prof. Memaj is deputy dean for International project management, Standards and Quality assurance.
He also is Executive Director of the Albanian Social Economic Think tank – ASET (www.aset-al.com)

Prof. Memaj is a member of the International Association for Q' Studies – IASS (2000), member of the Association of Balkan Statisticians (2000) and member of the European Association of International Education – EAIE, (2011).
He has over 35 years of experience in higher education institutions and is author and co-author in 6 monographs, 5 book translations, more than 60 articles, more than 100 conference papers and many research projects.