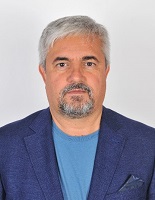 Head of Real Estate Department, Ph.D.
University of National and World Economy (UNWE) – Sofia, Bulgaria
Assistant Professor at UNWE – 1995 -2007;
Assoc. Professor at UNWE – 2007 – till now;
Head of Real Estate Department – 2018 – till now.

Publications:
Georgi Zabunov, Dimiter Velev and Plamena Zlateva, A Model for Price Assessment of Residential Property in Bulgaria and its Implementation Options as SaaS, Selected, Peer reviewed papers from the 2012 International Conference on Innovation, Trade and Economics (ICITE 2012), June 2-3, 2012, Hong Kong.
Georgi Georgiev Penchev, Georgi Shinkov Zabunov, REAL ESTATE PRICES – URBAN SECURITY RELATIONSHIPS: SPATIAL ANALYSES AND DEPENDENCIES, Acta Universitatis Lodziensis. Folia Oeconomica, 6 (309), 2014.
Georgi Zabunov, Property management and means-end chain analysis, CIRRE 2016 – 1st CONFERENCE OF INTERDISCIPLINARY RESEARCH ON REAL ESTATE, PROCEEDINGS.