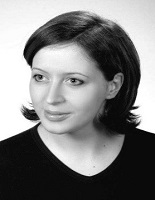 Karolina Olszewska, Ph.D., is an Assistant Professor at the University of Wroclaw (Faculty of Social Sciences, Institute of International Studies, Section of International Economic Relations and European Integration).
She is a graduate of the University of Wroclaw (LLM in Commercial Law), Strasburg III (DESS in European Public Policy) and the University of Nice Sophia-Antipolis (LLM in International and European Law).
She earned her Ph.D. in Economics from the University of Economics in Wroclaw on the basis of the dissertation "Mergers and acquisitions in the ICT sector in the European Union".
She has taught as a visiting scholar at the University of Nice Sophia-Antipolis, the University of Las Palmas de Gran Canaria, the Autonomous University of Madrid and the Libertas International University in Zagreb.
She is a member of CEDIMES (Centre for Studies in International Development and Economic and Social Movements) and a member of AIELF (International Association of French-speaking Economists).
Her research focuses on economic and legal aspects of innovation, cross-border technology transfer, knowledge-based competitiveness, as well as the digital single market development.