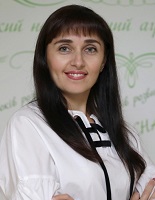 Sumy National Agrarian University, 160 H.Kondratiieva Str., Sumy, 40021, Ukraine
Assistant professor (09.2014 till now) at the Faculty of Economics and Management
Lyudmyla Batsenko, born in 1978.
In 2003  graduated  Sumy National Agrarian University, received a full higher education in " Management of organisation" and qualified as a specialist economist-organizer (diploma with honors ).
Candidate of Economic Sciences in the specialty 08.00.04 – economics and management of enterprises (by type of economic activity) since 2014.
Experience of pedagogical work in higher educational institutions of III-IV level of accreditation of 16 years.
Main field of scientific interests are the strategy management, HR and administrative skills.