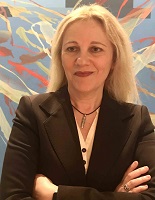 María del Carmen Valls Martínez obtained her PhD in Economics and Business Administration in 1999 and is a Professor in the Department of Economics and Business at the University of Almería (Spain). She lectures in the area of Financial Economics and Accounting and is the Coordinator of the Interuniversity Master in Accounting and Corporate Finance. She has written manuals for the subjects of Mathematics of Financial Operations, Advanced Financial Operations and Introduction to Finance. She has received the mention of "Excellence" in her academic work by the University of Almería. In addition, she is a tutor in Accounting and Finance at the National University of Distance Education (Spain).
She is Director of the Research Group "Ethics, Gender and Sustainability", attached to the Mediterranean Research Center in Economics and Sustainable Development. Her lines of research include Financial Operations, Ethical Banking, Gender Economics, Health Economics and Sustainability.
He has published more than sixty articles in prestigious international journals, such as Mathematics, International Journal of Environmental Research and Public Health, Corporate Social Responsibility and Environmental Management, European Research on Management and Business Economics, Healthcare, Plos One, Women's Studies International Forum, Revista Española de Investigaciones Sociológicas, Anales del Sistema Sanitario de Navarra, Sustainability, Journal of Risk Finance, Heliyon, etc.
She has also presented more than one hundred papers at international conferences on economics, health and teaching.
She is editor of Plos One and special issues in Mathematics, Sustainability, Frontiers in Public Health, etc. She is a member of the Scientific Committee of numerous international conferences and the International Journal of Corporate Social Responsibility, Forum Scientiae Oeconomia and BOHR International Journal of Business Ethics and Corporate Governance.
She has supervised six doctoral theses on financial mathematics, credit unions, financial transactions tax, brand valuation and health economics.
She is a reviewer for multiple international journals indexed in the Journal Citation Report and Scopus. She is also a reviewer for the Spanish State Research Agency and the Czech Science Foundation.
Personal web page
https://www.carmenvalls.com/