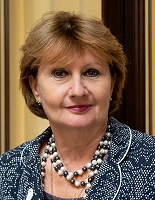 Mária Lakatos is an associate professor and deputy head of the Department of Finance and Accounting at the Faculty of Economics and Business in the University of János Neumann (Kecskemét, Hungary).
She is an assistant professor at the Institute of Business Economics in the Eötvös Loránd University (Budapest, Hungary).
She has international tax expert qualification and uses her wide-ranging practical international business consultant experiences also in the field of education and research.
The main scope of her research activity is investigating taxation problems, including accounting and taxpayer behavior, international taxation issues, the relationship between the behavior of taxpayers and changes in tax rules.
She highlighted in scientific papers the problems of the economic governance of certain strategic areas, such as the tax problems of CO2 quota trading, the regulation of Hungarian energy supply, and partly the problems of agriculture-related to taxation.