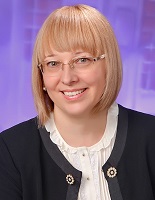 Nadiia Kobetska
Doctor of Sciences in Law, Full Time Professor
Educational Scientific Law Institute, Vasyl Stefanyk Precarpathian National University, Ukraine
Nadiia Kobetska has been working at Vasyl Stefanyk Precarpathian National University for over 28 years, teaching and doing research in the field of environmental law. Her academic interests cover the effectiveness of the legal mechanism for environmental protection, the implementation of international and European environmental and legal requirements in the system of national law, the protection of environmental and related social rights.
Nadiia Kobetska is the author of more than 170 academic and methodological publications, including the textbook «Environmental Law of Ukraine» (2007, 2009 (2nd edition)), approved and recommended by the Ministry of Education and Science of Ukraine, and an individual monograph; co-author of the textbook «Corporate Law of Ukraine» (2010) approved by the Ministry of Education and Science of Ukraine; co-author and editor of the research-to-practice commentary to the Water Code of Ukraine, co-author of 8 collective monographs.
The results of the professor's academic research have been repeatedly presented at international and national conferences, symposia and round tables.
Professor Nadiia Kobetska is a university representative at the IUCN Academy of Environmental Law. She has repeatedly participated in short-term international academic and research internship programs and training programs (USA, Hungary, Poland).