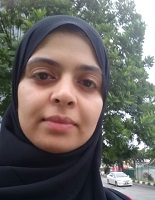 Rabab Ali is a lecturer at Imam Abdulrahman Bin Faisal University, Al-Dammam, Saudi Arabia. She has a Ph.D.  in Computer science. Her research interests include recommender systems, tourism management, electronic vehicles, e-learning, Green IT/IS, and machine learning.
Rabab teaches computer science and management information systems courses and coordinates five research groups about different topics from management and computer science departments.
Rabab supervises the academic advising unit in the college and provides the gaudiness and assistance for academic advisors. She is responsible for conducting and arranging the meetings and workshops for the academic advisors.
Rabab is very active in community service and she participated in many of community services that have been conducted by the supervision of the college. She also developed and conducted a full program for postgraduate students entitled as Introduction to scientific research.