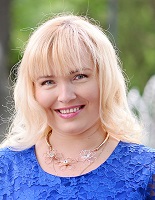 Silvia Trifonova works as professor, PhD in Economics in the scientific specialty "Finance, Money Circulation, Credit and Insurance" in the Department of Finance of the University of National and World Economy (UNWE), Sofia, Bulgaria.
She is a member of the Control Council of the UNWE. Also she is Deputy Dean for Quality and International Cooperation of the Faculty of Finance and Accounting at the UNWE and chairperson of the Faculty Commission for Quality Assurance and Evaluation.
She teaches the following academic disciplines: International Finance, Banking, Bank Risk Management, International Financial Institutions, International Financial Management, European Monetary and Financial Integration, etc.
Professor Trifonova is the founder and first director of the Joint Master's Program in European Business and Finance between UNWE, Sofia and Nottingham Trent University, Nottingham Business School, Nottingham, UK.
In the period 2007-2013 she was a National Contact Point (NCP) of the Republic of Bulgaria of the Seventh Framework Program for Research and Technological Development (FP7) of the European Union in a specific Program "Capacities", Sub-program "Science in Society".
She has many years of professional experience in financial and banking practice – expert in the field of payment systems supervision and founder of the Oversight Payment Systems Department of the Bulgarian Central Bank – the Bulgarian National Bank (BNB), expert in the Money Market Department of the Sofia Stock Exchange, financial analyst and consultant in corporate companies, etc.
She has carried out many scientific and professional specializations in foreign universities, research institutes and organizations, including: Kiel Institute for the World Economy, Kiel, Germany; University of Cambridge, Selwyn College, Cambridge, UK; University of Athens, Department of Economics, Athens, Greece; Caisse des Dépots et Consignations, Department of Economic and Financial Research, Paris, France, et al.
She participates in the organization and preparation of high-level conferences, such as the annual International Scientific Conference of Young Researchers "The Economy of Bulgaria and the European Union" of the Faculty of Finance and Accounting of the UNWE, etc., as well as in working groups of the European Commission, the Institute of Chartered Accountants of England and Wales (ICAEW), the Helsinki Group on Gender Research and Innovation, EUROSCIENCE, and other organizations.