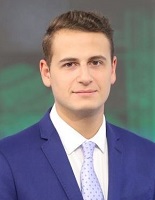 Svilen Kolev represents the University of National and World Economy, 1700 Sofia, Student Town, UNWE, Bulgaria and works as an Economist at the Banking Policy and Analyses Division of the Association of Banks in Bulgaria.
His tasks are related with the analysis and interpretation of statistical data for the banking sector and macroeconomic indicators for the economy of Bulgaria, the EU, euro area and non-EU countries. He also conducts analysis of financial information and prepare quarterly, annual and ad-hoc reports about the trends in the banking sector.
He obtained a PhD degree from the Finance Department of the University of National and World Economy, Sofia, Bulgaria, with a research in the field of unconventional monetary policy. This is one of the fields he is deepening his knowledge, analysis and scientific work.
Area of scientific and professional interests
Monetary Theory and Monetary Policy, Unconventional Monetary Policy, Central Banking, Capital Markets, Bank Management, Macroeconomics, International Financial Organisations, Statistics and Econometrics