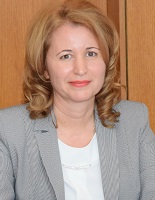 Tsvetana Stoyanova is teaching Strategic Management, Strategic Human Resource Management and Leadership. She has more than 90 publications and 4 manuals in the field of strategic management, strategic management of human resources and leadership, published in specialized management and economic issues.
Tsvetana is a Professor at the University of National and World Economy – Sofia, Department of Management. Tsvetana is a Vice-rector for institutional and business cooperation and student policies since 2019.
Tsvetana is a member of the Academic Council of the UNWE since 2015. Tsvetana is the Director of the Centre for Business Excellence at the department of "Management" in UNWE since 2015-.  Also, she is a Chairman of the General Assembly of faculty "Management and administration" of UNWE in the period 2015-2019.
Tsvetana is a Member of a group of experts in Managerial Sciences to the National Evaluation and Accreditation Agency as of 2013.
Tsvetana is a member of the Faculty Council of the Faculty "Management and Administration" in UNWE since 2009. Tsvetana is a member of the Union of Economists and a member of the Institute of Electronical and Electronics Engineers (IEEE).
She is a member of the Association of Professors of Economics and Management in Industry. Tsvetana was Project Manager in "Development and implementation of updated curriculum in the Bachelor`s degree, Administration and Management Professional Field, in accordance with the requirements of the labour market", Operational Programme "Development of Human Resources" .
Tsvetana has a broad experience in consulting many public and private businesses.